Port of Hanko
With an immediate connection to the open Baltic Sea situated at the southernmost point of Finland, the Port of Hanko offers an extraordinary and easily reached service for international trade to and from Finland. Port of Hanko has become the leading port in fast liner traffic, offering a round-the-clock service to all kinds of foreign trade.
To develop the port´s facilities and its operations in a sustainable way, the Port of Hanko has adopted a dynamic and targeted environmental policy for the years to come, with the high ambition of carbon neutrality by 2024.
PORT OF HANKO 150 YEARS
Anna Haimila @annahaimilagraphics designed a picture for the Port of Hankos 150-years celebration.
In the picture you can see buildings and settings from the port, the colourworld is taken from the Port of Hanko logo.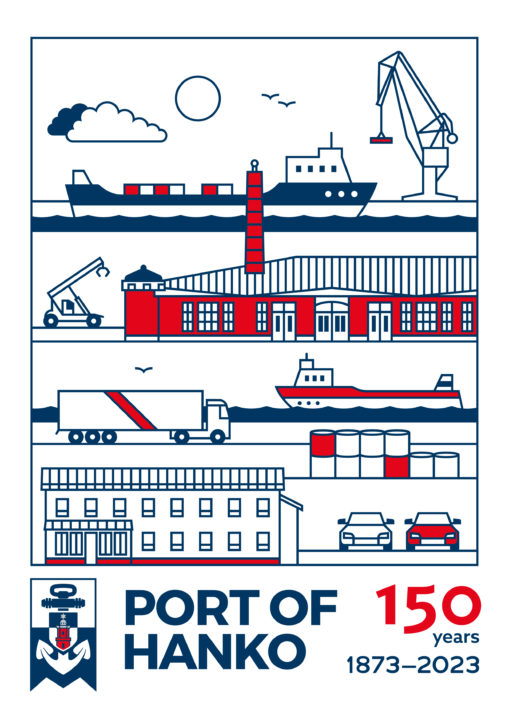 Port statistics 1-10/2023:
Vessel calls
(pcs)
1302
Cargo
(tn)
3 742 075

 

Import
(tn)
1 704 367
Export
(tn)
2 037 709
Cars
(pcs)
80 708

Virtual exhibitionstand
By clicking the picture below you can get to know our port.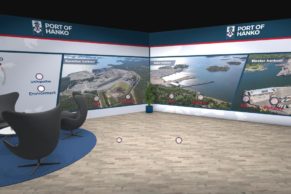 How does UnitSpotter work?
Empty runs are a global problem, which affects many companies, people and the environment. That means all of us. Empty runs increase costs, delivery times and wear on the roads and increases the environmental load. UnitSpotter is a nationwide, easy-to-use, real-time cooperation platform for operators that has been designed to even out the empty run problem and the problems associated with it.
You can add your own notification about free freight or equipment to the UnitSpotter. You can also view notifications made by other operators either on a map or in a list view. You can search the notifications for a suitable match by filtering the view in accordance with your search criteria. This way you can find what you are looking for easily and quickly.
Whatever your transport need within Finland is, by adding a notification to UnitSpotter for others to see you make it possible for other users to suggest transport solutions for your needs. This may bring about suggested solutions you might not have even thought about.
UnitSpotter – Because we believe that there is power in cooperation!